Basement Finishing: Installing a Wet Bar
There are many possibilities that come with an unfinished basement. One of the top basement finish add-ons clients request at Nova Basement Finishing is installing a wet bar.
Most people choose to upgrade their basements to create more entertainment space for their families to gather and enjoy. That is why installing a wet bar seems like a natural next step for many. They complement any entertainment area beautifully! They also add so much functionality to the area as a whole.
Take a look at two wet bars our team at NOVA Basement Finishing recently wrapped up:
Wet Bar #1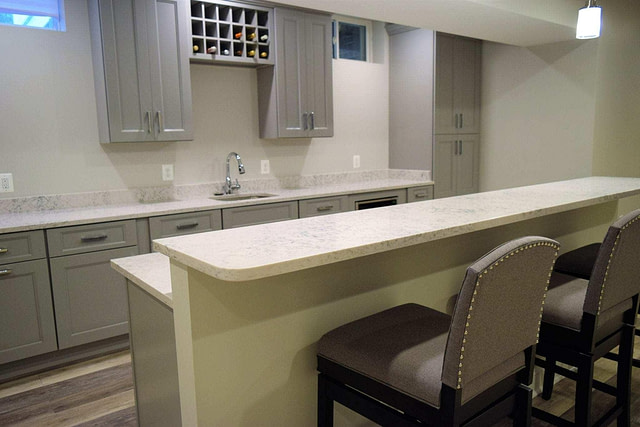 This wet bar is sure to attract the attention of all guests coming over on Friday night. Above you can see beautiful light granite counter tops and light grey cabinetry that complements the wood plank flooring. As you can see, it has a sink and running water. This makes serving and cleaning much easier!
The wet bar above is luxuriously spacious for many guests, but don't be discouraged if you have a small space. We can still help you design your own functional wet bar in a smaller area.
Wet Bar #2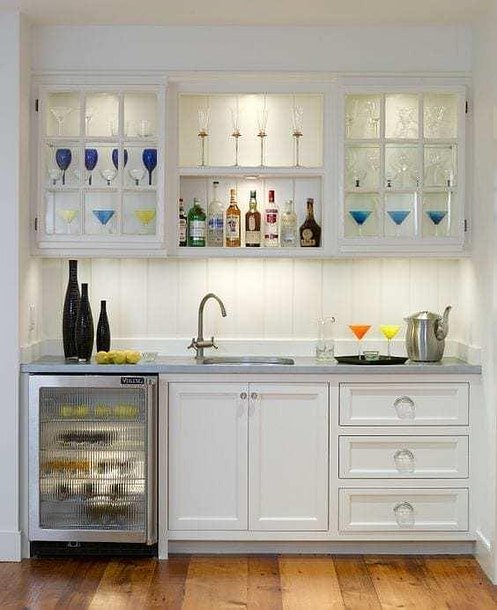 The wet bar shown above was created in a relatively small area, but still aesthetically pleasing and fully functioning! We love taking on any obstacle. Whether it's a lack or plethora of space– it's a great way to spark our creativity and innovation.
From a design perspective, there are millions of colors, materials, and layout options you can choose from. The Cyrus team can work with you to create a basement worthy of all your family's biggest and best gatherings!
Contact Us!
If you're looking for professional help installing a wet bar, do not hesitate to reach out to Cyrus Construction! Above all, we want you to have the entertainment area of your dreams. Feel free to reach us by phone at 703-273-8888 or email at cs@cyrus-construction.com.