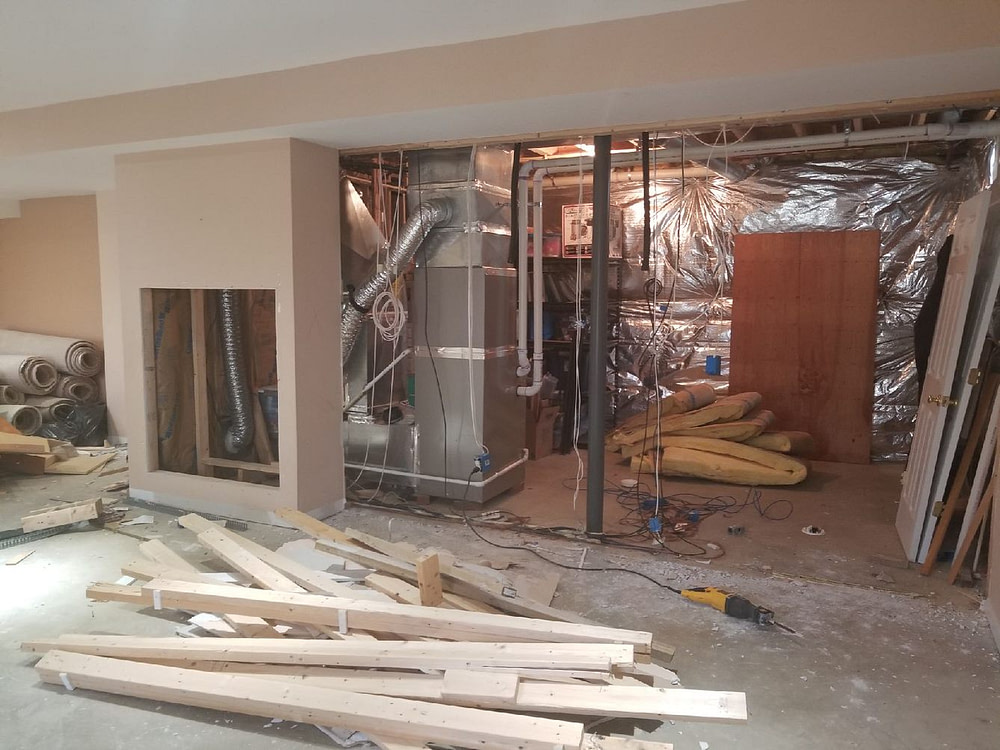 Your home is a massive investment. That's become even more true in recent years, as the average sale price for homes soared up into the $290,000 range.
Like most people, you want your investment to grow in value and provide you with better quality of life. That's why home renovation projects never go out of style. Of the popular home renovation projects, basement remodeling routinely makes the list.
Of course, any sensible homeowner must consider the cost of any renovation project. If you're considering remodeling your basement, keep reading. We'll cover the essentials of basement remodeling and what kind of cost you can expect for the project.
Basement Finishing Benefits
Before jumping into all the factors you must consider in remodeling a basement, let's take a look at some of the benefits you get from it. One of the key benefits you get from a finished basement is more useful space.
For example, you can put in a full laundry room with shelving and good lighting away from the main living spaces upstairs. Let's say that you're working from home, as so many are these days. A finished basement is a place you can put a home office away from the noise and activity in the rest of the house.
You can even put in something of a second living room where you can send your kids to watch their shows or play video games.
Many people don't realize it, but unfinished basements can actually drive up your utility costs. Cheap windows and uninsulated walls can let air leak in that pushes your HVAC system harder to maintain temperatures.
A finished basement can also increase your home's value. Even if you don't plan to sell right away, it's a nice bonus for when you do sell. Now, let's look at factors affecting price.
Basement Size
When it comes to finishing a basement, size matters. Basement sizes vary a lot depending on whether they are full basements and your home style. In this case, a full basement means that it mirrors the size of the floor above.
Let's say you own a 2000-square foot ranch-style home with a full basement. That means you may well have around 2000-square feet of the basement for your finishing project.
What if you own a two-story, 2000 square foot home with a full basement? Then you only have 1000-square feet of basement to work with, give or take.
As you can imagine, differences in size like that can mean a project costs substantially more or less.
Waterproofing
Basements have a reputation for being damp places that you don't want to store things that don't handle the damp well, like photographs and documents. It's an earned reputation.
Dampness can occur in your basement for a variety of reasons ranging from simple condensation and poor exterior grading to that keeps groundwater around the basement. That's why most basement finishing projects start with waterproofing the basement.
The waterproofing helps ensure that you don't throw your money away on finishing the basement, since that dampness will destroy everything from carpet to insulation and drywall.
Again, the total size of your basement will play a significant role in the cost of waterproofing.
Sump Pump
A secondary water control method that your contractor may recommend is a sump pump. In essence, a sump pump collects water that gathers in your basement and literally pumps it back outside.
You typically see sump pumps in homes where the soil around the house has poor drainage qualities. That dramatically increases the odds of some level of water seepage in the basement. It isn't necessary for every basement, but it can add to your costs.
Electrical and Plumbing
When most people think of a finished basement, they imagine things like a wet bar, an extra half-bath, and electrical outlets. Most basements do not get things like plumbing and electrical installed as part of the original build. That means you must run all of that new piping and electrical wire brand new.
A finishing project can also mean rerouting your existing plumbing so it won't interfere with the room layout you have in mind. If your current electrical panel won't support the additional draw, you'll need a new one or possibly a subpanel.
Assume that you'll need licensed plumbers and licensed electricians for that work. Many locations require that you use licensed plumbers and electricians to ensure that your finished basement meets the local and national building codes. Even if you don't live somewhere that it's required, it's still highly advisable.
Floors
Believe it or not, floors are often the most expensive thing that goes into your finished basement. Part of that stems from the fact that the poured concrete in most basements isn't installed with a finished basement in mind. That means that the current floor may require leveling before any other work gets done.
You will also need moisture barriers in place on the floor that you wouldn't need in other parts of the home. Those barriers ensure that whatever flooring you do put down won't get damaged by moisture that sneaks into the basement.
That all happens before you even consider flooring materials, such as tile or carpet, which can also drive the price up or down.
Materials
Materials are another place where the costs can become unpredictable. If you just want basic rooms with drywall and paint, you can keep costs down. If you want custom paneling, a wooden wet bar, and luxury carpeting, the price will reflect those choices.
You must also consider ceiling materials. You can use drywall, assuming your ductwork and pipes won't get in the way. Or you may opt for a drop ceiling.
If you go with a drop ceiling, get very clear on the local code requirements. Your town or city may have regulations on the books about the height of basement ceilings. If the drop ceiling is too low, you can end up with a code violation and have to redo the ceiling.
Working with a basement remodeling company or general contractor can help you avoid this kind of problem, as they'll know the local code requirements.
Bathroom and lighting fixtures, toilets, sinks, and vanities come in at all levels of quality and price points. These can affect your final costs as well.
Insulation
While insulation is part of materials, it gets its own section because insulating a basement isn't the same as insulating other parts of the home. The kind of fiberglass insulation you typically see in exterior walls and attics is often a poor choice for basements.
The fiberglass itself isn't the problem, as mold can't feed on it. Even so, it can become a home for mold given the right conditions. The right conditions are spores, any food source, and moisture.
While you should discuss the options with your contractor, they'll likely recommend spray foam or rigid foam board.
Permits
Any project as big and complicated as finishing a basement will require permits in almost all locations. While your contractor will help you file the right forms with the right people, those permits aren't free. Unfortunately, those permits also cost money.
Your location will play a role in the cost of permits. In some areas, you might only pay a few hundred dollars. In other locations, the cost for permits can rise to more than $2000 dollars.
You should talk with potential contractors about local permit fees and whether or not those fees are part of the estimate.
Labor
Labor makes up a meaningful percentage of any remodeling project can go as high as 25% of the total cost, depending on the contractor.
Let's assume that you'll use a general contractor or basement remodeling company for the work. The good news is that labor costs are part of the estimate. That also means that the costs for subcontractors like electricians and plumbers get rolled into the estimate.
The total labor costs will also vary based on your location. As a general rule, expect that those costs will run higher in major urban locations than they will in suburbs or in rural areas.
Cost to Finish a Basement
Many things can change your total costs for the project, such as location, material choices, and even project complexity. The national average cost for a finished basement hovers a little over $18,000. With that said, higher-end finished basements and larger basements renovations can cost $30,000 or more.
Basement Finishing and You
Basement finishing is an attractive option for many homeowners. It's a solid option for expanding your living space without changing the footprint of your home, which isn't an option for many homes.
A finished basement can also improve the temperature control in your home by sealing up leaks that let warm or cold air slip inside. On top of that, a finished basement can add value if or when you decide to sell your home.
Nova Basement Finishing specializes in finishing and renovating basements in the Maryland and Northern Virginia area. For more information or questions, contact Nova Basement Finishing today.