By going to the gym, they can escape out of their homes and get a break for a short time.
You spend more time driving to the gym then workout requires.
Home Gym
The first reason is flexibility. You don't need to leave the house and make an extra trip especially when the weather is bad and don't have to worry about keeping to a tight schedule.
The second reason is the cost and benefits of a gym membership compared to the cost and benefit of a home gym. Choosing a home gym does not mean that it needs to be filled with expensive equipment. Privacy is another good reason for a home gym and a big reason. You can focus and push yourself and get a good idea of what you can and can't do. You can also focus your training without having to deal with distractions.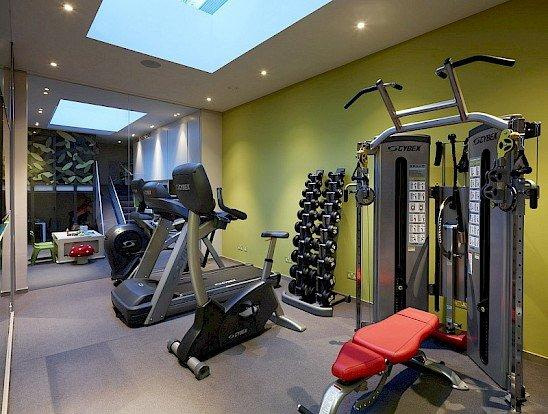 KEEPING IT COOL – Controlling the Temperature in Basement Gym
It is essential that basement gyms have the correct equipment installed. Customer satisfaction but for Health and Safety.
The most important consideration when building a basement gym is temperature and airflow. Unlike a gm above the ground floor, the simple solution of an opening window for light or fresh air is not always possible.
"OPTIMUM Gym Temperature is Between 18- 20 degrees depending on the season and personal preference."
It is important that issues such as condensation or unclean air do not occur for health safety reasons. Unclean or 'old air' can result in something like a minor as a sore throat or breathing problems due to a larger number of bacteria microorganisms in the air.
Badly managed humidity can also lead to condensation or dry skin problems.
" Air inside a basement gym needs to be controlled to maintain that optimum temperature and humidity with air conditioning and air extraction systems".
This is such an important aspect of a gym for health and safety reasons.
The different sized gyms will require different amounts of maintenance to ensure the flow is clean and distributed properly. A home basement gym needs these systems.
The air conditioning and air exchange systems are installed for regulating the correct sanitary temperature.
The perfect temperature in a gym is always a huge factor that sets it apart from the competition, especially in the summer months.
Our team of professionals at NOVA Basement Finishing can help. Call us at 703-273-1011 or email at [info@Novabasementfinishing.com] to schedule a complimentary in-home consultation. We look forward to working with you!