It's time to take home remodeling to the next frontier. Your living spaces are renovated, your bathroom looks like it's out of a magazine, and your backyard is a serene paradise. But there is one place in your home that needs attention: your basement.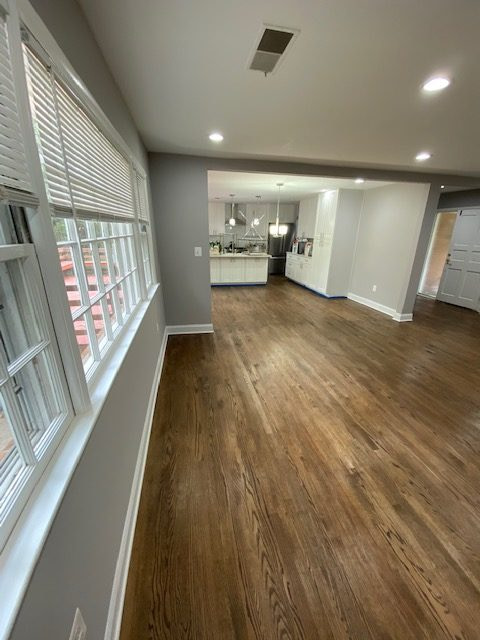 That's right; your basement needs some love too. It's been neglected far too long, and it deserves to have a renovation to make it look as well-designed as every other part of your home.
So, what's new in the world of basement remodeling? Here are the top trends for 2021 that will transform your basement into the new frontier of home living.
Built-In Shelves
No matter what the room is, shelving always provides a place for storage while still looking polished in an interior design. And the best part is that built-in shelving looks great in any room and can adapt to any design aesthetic.
From rustic wood shelves to sleek metal shelves, built-in shelving can give your space the stylish detail the room needs. You can even build it around existing or new features like a fireplace or television.
Show off your books or movie collection, or decorate it with photos and decor. Built-in shelves are also a great place to show off your and your family's personality. Shelving is a great budget basement remodel that still transforms.
Home Office or Homework Station
An area where you can work undisturbed has become more essential over the last few months. And sometimes, the dining room table just doesn't cut it. You need a place where you can sit down and not be interrupted.
So turn your basement, or a portion of it, into a home office. This will give you the much-needed solitude to get your work done. You can even soundproof the space so the other inhabitance of your home can continue at any volume.
Alternatively, you can create a homework station for kids. This will give them a dedicated place to work every day. You can stock the space with all the supplies they need to finish their assignments.
A Storage Area
Most people use their basement as a storage unit. This is the place where holiday decor, out-of-season clothes, and childrens' toys get shoved to and sometimes forgotten.
And trying to find something you need can be difficult after years of accumulating boxes and totes. So why not create a dedicated storage area in your basement?
This allows you to free up some room for living quarters and gives you the opportunity to create a well-organized area for all of your belongings.
Fitness Room
Getting in shape is always on most people's to-do lists. But getting to a gym means carving a lot of time out in your day. However, with a gym right below your feet, it's never been easier to stick to a routine.
You don't need to recreate an entire gym to get the best results. All you'll need are a few key machines and the space to put them. Dedicate a corner in your basement for cardio, weights, and floor exercises.
You can even hang a television and speakers so you can follow your favorite instructor's routines.
Your Own Bar
This is a must for anyone who loves to host their family and friends for a good time. A classic basement remodeling project, your own bar will give you the showstopping entertainment space to become the go-to home for parties.
Create a wet bar with a sink to wash your glasses and a refrigerator to store your favorite liquors and mixers. You can even have beer taps installed to give a true bar experience.
A home bar is a place you can enjoy with your partner or when you have company. You can even try making new recipes and creating your own cocktails.
A Playroom for the Kids
Many people don't want to see their kids' toys strewn about the floor. But unfortunately, stepping over stuffed animals or stepping on toy cars is a common occurrence in many households.
Instead, make a place for all of their toys by creating a playroom in your basement. This will be an easy way to keep the rest of your home clean while giving them a dedicated area to explore their imagination.
You can decorate the walls with bright, fun colors and put carpeting down to make it soft and cozy. And cleanup can be much easier if all the toys are in one area.
Home Theatre
Who doesn't love a good movie night? A romantic comedy with your spouse or a silly movie with your kids are all a fun way to relax in the evenings. So why not transform your basement into your own personal theatre?
As one of the most common basement remodel ideas, a home theatre is easy to complete. And there are so many ways to create your own home theatre. You can go classic with a large screen and movie theater-style chairs.
Or you can take a more modern approach and put large, comfortable furniture in front of a movie projector screen. Add details like a snack bar, popcorn machine, and soda fountain to lean into the movie theater aesthetic.
A Second Living Unit
A great option for a small basement remodel to create another living unit. Turn your basement into a smaller apartment or a suite by adding a bedroom, bathroom, living room, and kitchenette.
With a second living unit, you have a ton of possibilities. You can use it for out-of-town guests, so they feel totally comfortable while staying with you. Using it as an in-law suite is a great option, especially for older parents.
You may even want to look into renting it out, especially if it has its own access. Use your basement for short-term rentals or long-term tenants to make a little extra money on the side.
Library and Reading Space
Have a large collection of books you don't know where to display? Transform your basement into your own personal library. Build floor-to-ceiling shelves to house all your favorite novels, comics, or memoirs.
You can even create a space for you to get comfortable while you dive into your favorite stories. Start with plushy chairs and a sofa, add in cozy details like pillows and throw blankets.
For your own library and reading space, you may want to add in a place where you can make tea, coffee, or hot chocolate, so you don't have to trek back upstairs to the kitchen.
Spa and Sauna
After a long day or week, all you want to do is relax. But a long soak in the bathtub doesn't always do the trick. Sometimes even aromatherapy candles and a glass of wine can't make a difference.
Instead, you may want to transform a part of your basement into a spa or sauna to get the most out of your relaxation. You can build a custom sauna for the size of your basement and the number of family members you have.
Many saunas come in kits, but you can build one from scratch as well. If you create your own spa, consider a deep soaking tub, massage tables, or even an indoor hot tub.
Game Room
Love a good challenge from tabletop games? Maybe you have an extensive board game collection. Or are you a card shark who always knows where the aces are in a deck?
It sounds like you need to have your own game room. Convert your basement into a place where you play against your friends and family in all your favorite games.
Get competitive with an air hockey table or a ping pong table. Set up a place for you to try out new board games. Or have a betting night and enjoy a few rounds of poker.
Music or Art Studio
Have a creative itch you need to get scratched? Build a place in your basement that will give you all the inspiration you need to create your next masterpiece.
A music or art studio can free up some room in the rest of your house and allow you to keep your instruments or supplies all in one place.
For a music studio, you can add soundproofing so you don't disturb the rest of the home. You can have all the equipment to record yourself playing professionally.
An art studio can have built-in shelving to hold all of your tools and supplies. Add a work desk where you can spread out everything you need to create your current project.
Transform Your Home With Basement Remodeling
Your basement is an untapped sea of potential. If you move the boxes of winter clothes, old kids' toys, and holiday decorations, you have much more room to live in.
The basement doesn't have to be the place where you throw items and never look back. Basement remodeling can give the extra square footage your home needs.
You only need a few changes to transform your basement into a space that you and the family can enjoy. Ready to turn your basement into a new living space? Contact us to see what our remodeling experts can do for your home.