Whenever a man decides to include just a little comfort to his space, also known as "man cave." Most man caves come in Basements. They are places where men can withdraw in the home's more formal areas to pursue enjoyable activities without having to worry about creating chaos or just being advised of all the incomplete repairs and remodeling projects upstairs.
Two kinds Of Basement Man Caves:
Some man caves or man rooms are dedicated to entertaining small categories of friends. These rooms are typically incorporate a wet bar, fridge, a sizeable-scree TV, and a few comfortable seating. "social" man caves are actually excellent settings for casual gatherings.
For example, watching ball games. Billiard tables, table tennis tables, and indoor putting vegetables will also be very common inside a social man cave.
Another type of man cave is much more personal. It's frequently dedicated to a group of a collection like vintage collections and many more.
MUST HAVE FOR A BASEMENT MAN CAVE
Some basic plumbing – a sink and toilet will save many trips upstairs.
A dehumidifier – best way to eliminate the musty smell associated with basements is high – capacity dehumidifier
Water management system- If your man cave is in the basement and is frequent flooding after heavy rains are sure to install a perimeter drain and sump pump.
Exterior wall insulation -the temperature of your favorite haunt will drop in the 50s during the winter in many regions. To keep your man cave comfortable, insulate exterior walls. For the supplementary heater, tap into your existing heating system, install system install a gas fireplace, or use a portable electric heater.
Moisture resistant walls- stone or block walls are entirely acceptable for a man cave. A quick couple of coats of self-priming paint is good enough.
Moisture resistant flooring- concrete slab can easily be painted too. A better solution is an interlocking modular vinyl tile or plank floor that provides a thermal break between your feet and concrete.
Soundproofing
Total Basement Finishing makes it possible to transform your damp, dingy basement into the place to be on super bowl Sunday. Basement finishing starts with an idea and ends with a totally transformed space!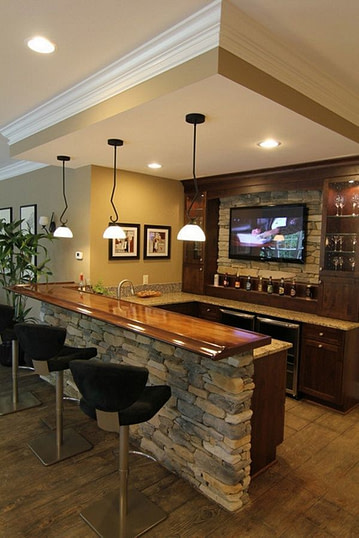 We would love for you to be guest in our home!
Looking for a price? Get a no-cost, no-obligation estimate… NOVA BASEMENT FINISHING can help your basement needs… Pls. call us today!