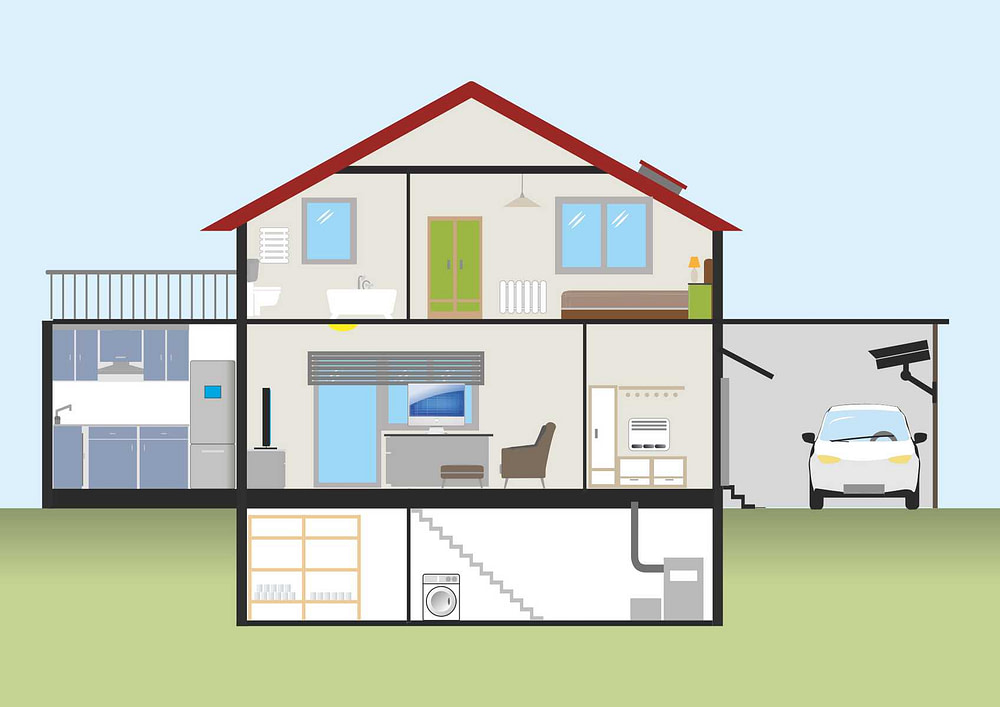 Basement renovations are a massive undertaking. However, finishing basement walls is one of the most overlooked and critical parts.
All too often, homeowners choose a wall finishing that is convenient and quick but not exceptionally durable.
As a result, homeowners are surprised by the amount of work and money needed to finish their basement walls. And depending on the work left undone by your contractor, you may be wondering what else needs to be done and if it's worth it.
There are different methods and approaches to finishing your basement walls. Although a lot can go wrong, proper planning and preparation will save you time, money, and stress.
In this guide to basement finishing, you will receive valuable advice about finishing a basement renovation with ease.
If you're ready to learn how to complete your project successfully, you've come to the place!
Cost of Finishing a Basement
How much are you willing to spend? Depending on the size and style of the space, the total cost can vary from a few thousand dollars to more than $30,000.
While removing cobwebs and covering up concrete may seem like easy DIY projects, it will take licensed professionals to create a livable space. Though you may have a good idea of how much you can spend, you should get multiple quotes from contractors. This way, you can compare costs and choose the best one for your budget.
In addition, the rate of return on your basement investment depends on many things like waterproofing, building permits, and electrical work required.
It is imperative to research what is required for your basement renovations, how much it will cost, and who can help.
Select the Right Material
The first step in finishing basement walls is to choose the suitable material for your wall surface.
The type of wall you choose determines your basement's overall look, feel, and value. Is it a cozy and inviting room with warm tones and traditional timbers? Or will it be more modern, with exposed concrete walls, bright colors, and minimal ornamentation?
Your geographical location plays a significant factor in the best basement wall finishing materials. Different materials offer different benefits based on their durability and resistance to moisture, mold, and mildew.
In areas where moisture is not an issue, opting for drywall may be sufficient for covering your basement walls. However, suppose you live in an area where high humidity levels or a lot of moisture condenses on the walls, incurring mold and mildew damage over time. In that case, you will need to choose from among different materials explicitly built for use in moist conditions.
Here are a few of the typical basement wall finishing materials. Each material has its advantages and disadvantages.
Drywall
Drywall is a popular option for home renovations because of its cost-effectiveness and ease of installation.
Drywall is inexpensive, easy to install, and can be painted any color you like. It also provides many different styles of paneling.
However, it offers minimal soundproofing and has a relatively short lifespan. If water damage occurs, it can be challenging to repair.
Concrete
Concrete is a very durable material. So if you're building a basement gym or some other space that could see a lot of wear and tear, concrete is a great option.
Concrete walls are fireproof. While they won't protect your home from fire if it's completely engulfed in flames, they'll keep the fire at bay long enough for you to escape.
Concrete is porous and absorbs water from the air. Therefore, you need to take extra steps to prevent moisture from reaching your finished basement space.
That said, concrete is more resistant to moisture than most types of drywall – an important consideration if your basement floods often.
Block Foundation
Block foundation basement walls are more popular because they have a similar appearance as poured concrete basement walls. In addition, they are much cheaper than poured concrete basement walls.
They do not require expensive tools and machinery to install.
The disadvantage of using block foundation basement walls is that they may be more prone to cracks due to excessive moisture. However, you can prevent this by installing a drainage system within your basement.
Conduct a Basement Moisture Test
Penetration through improperly waterproofed walls primarily results in foundation water damage. In addition, basement walls are often prone to damage from moisture.
For example, most basement walls consist of concrete blocks or similar material that allows water to seep through cracks and joints. As a result, it can lead to mold, mildew, and other bacterial growth and structural damages such as crumbling blocks or cracked masonry blocks.
As a first step, conduct a moisture test to determine if your basement would benefit from waterproofing. Waterproofing walls in a finished basement is one of the most crucial steps in keeping your home dry and healthy.
Seal block wall systems with holes using a waterproofing compound. It will prevent water from seeping through the wall and into your basement's interior.
As a best practice, apply a waterproofing compound around any openings you make in the basement wall, such as gas lines or telephone wires.
Research Permits and Codes
Research local building permits and building codes for basements before you start any wall construction. If you plan on using your basement for living space, you'll need to use fire-resistant material. For example, it is usually a gypsum board rated at 1-hour.
A common misconception is that you can build basement walls using concrete blocks and add fire protection later. However, taping the joints with asbestos tape doesn't replace the need for fire-resistant materials in your walls.
It is also illegal to patch concrete blocks with anything other than more concrete blocks.
Consider Future Plans
When you're finishing the basement walls, you'll want to plan for possible future changes. Many basements have the potential of changing from their current use to another, like converting a spare bedroom into a home gym.
When completing your basement wall finishing, it is best to make it durable and easy to change in the future. Here are a couple of examples of how you can approach this.
Start With the Finished Surface
Begin with the finished surface in mind. You can ask the framers to put in some extra studs for outlets, or you might be able to cut and add studs after installing the wallboard. There may be enough space between the top of the wall and a ceiling joist above to add wiring.
Use Multiple Layers
Consider using multiple layers. This first layer should cover any imperfections in the framing or insulation.
For example, if there is a vertical opening, like an old chimney flue, cover it with metal flashing. Do this before putting it on the first layer of drywall (also called wallboard). Next, cut the flue with a drywall knife and fill it with a drywall compound.
Let the drywall compound completely dry before adding another layer of wallboard.
Leave Extra Space
It's a good idea to leave some extra space for future wiring or possible changes to power outlets and receptacles. You may be able to cut through the wall and make these changes yourself, or you might be able to add outlets inside the walls.
Basement Wall Finishing Tips
Here are some quick and helpful finishing tips to keep in mind. They will guide you in finishing your basement walls with ease!
Remove concrete forms by cutting the nails that hold them in with a reciprocating saw equipped with a metal-cutting blade. Next, use a hammer and a crowbar to remove the form boards.
Install a vapor barrier to prevent moisture from wicking up through the wall. A vapor barrier is a sheet of plastic that can go directly behind the wallboard. It prevents moisture from seeing through the wall and causing water damage to your finished basement.
Apply a concrete stain or paint to improve the appearance of concrete. Cover the seems between panels with an epoxy grout or caulk. If you use flooring product on concrete, install it before painting or staining the walls.
Basement Design Ideas
You may have spent thousands of dollars on basement renovations. The last thing you want is a cheap-looking basement wall. Instead, choose basement wall finishing ideas that are durable, pleasant-to-look-at, and functional.
You can choose from various colors and textures for your wall treatments. As a reminder, do not forget to consider your basement's humidity level when selecting a material.
When selecting the color for your wall, ask yourself what colors would look good with your furnishings and other features in the room. You don't want your wall color to be an eyesore that sticks out like a sore thumb.
You can also add decorative elements to the space by adding molding or borders around the wall area. Finally, choose an accent wall that will stand out and harmonize with everything else in the room.
Finishing Basement Renovations With Ease
Whether you're doing a complete basement overhaul or investing a little money to create extra space for storage, you want to make sure the walls meet the highest quality standards.
Finishing basement renovations is a rewarding feeling. So there is no better time to tackle your basement remodeling project than now!
If you need advice about finishing basement walls or would like some helpful basement wall finishing tips, you can contact us. We would be happy to point you in the right direction!