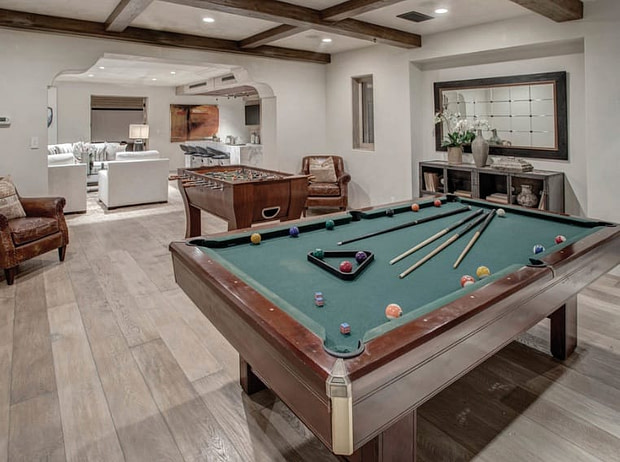 If your home's basement isn't a warm and inviting space, you may want to consider investing in a basement remodeling service. After all, a basement could be a liveable space that increases home value.
You could enjoy having a basement gym, office, or home theater. But if your basement is dark and dingy, you likely have a lot of work ahead of you. Fortunately, a remodeling company like Nova Basement Finishing can help.
Let's discover why a basement remodeling service might be the best way to improve your home's value and appearance!
Do You Have a Finished Basement?
Take a moment to picture your home's basement. Is it a dark, musty place with exposed plumbing pipes and a rough dirty floor? Or is it a bright, clean space with drywall-covered walls and an inviting atmosphere?
If the answer is the first option, you likely don't have a finished basement. And if your basement isn't finished, you're not taking full advantage of your home's living space. After all, a finished basement has several purposes.
You could use this space as an extra bedroom, a home theater, a recreation room, or a home office. If you're a wine connoisseur, you could even turn your basement into a personal wine cellar!
Still, you won't be able to take advantage of this additional living area if your basement is unfinished. So if your basement isn't looking its best, you may want to consider basement remodeling.
What Does Basement Remodeling Entail?
Before you can begin remodeling your basement, you'll need to know what this job entails. After all, some remodel consist of painting a few walls and installing new flooring.
Others require electrical work, drywall installation, and plumbing alterations. You can even waterproof your basement. Still, most basement remodeling companies offer a standard set of services, including:
Design Ideas
Structural Improvements
Aesthetic Improvements
Appliance Installations
Flooring Installation
Depending on the current condition of your basement, you may want to choose one or all of these services. For example, if your basement is finished, you might only need some design ideas and a new coat of paint.
But if your basement is a dirt-floored, dingy space with exposed wiring or plumbing, you'll likely need a more comprehensive range of services. Either way, renovating your basement could be the best thing you do this year.
Why Remodel Your Basement?
There are quite a few reasons why you might want to remodel your basement. Perhaps your basement hasn't been remodeled in several years, or maybe it's still unfinished and needs a complete renovation.
Still, many homeowners remodel their basement to enjoy:
More Living Space
Increased Property Value
Potential Rental Income
If you're on the fence about renovating your basement, you'll want to consider these benefits. Naturally, one of the best reasons to remodel your basement is to gain access to more living space.
More Living Space
If your basement is unfinished, it's likely an unpleasant place to be. Basements with dirt floors and exposed plumbing pipes tend to be musty, spooky places. They can also harbor spiders, mice, and cockroaches.
But when you renovate and remodel your basement, you can turn that dark and dingy space into a bright, welcoming room. You can use this room for whatever you'd like, whether it be playing video games or doing some work.
This change in room quality means that your home suddenly has several more feet of liveable space. Not only could this help your property feel more spacious, but it could increase your home's value.
Increased Property Value
Selling a home can be challenging, even in the most seller-friendly markets. If you're determined to sell your property for an average or above-average price, you'll want to do everything you can to increase your home's value.
This might mean investing in weekly lawn care services or replacing old appliances. But remodeling your basement could also boost your home's worth.
Liveable basement spaces can be added to your home's square footage. So a home that was once listed at 1,700 square feet might suddenly become a 2,700 square foot home.
The average price per square foot for a home in the US is about $123, so every extra inch equates to a higher home value.
Potential Rental Income
If you decide to turn your basement into a small studio apartment, you could choose to lease it out to a tenant and earn rental income.
Not only is this a great way to see a return on your investment, but it could be a long-term source of profit. Still, if you go this route, expect to invest slightly more in making your basement a safe and amenity-rich space.
Basement Remodeling Ideas
The amount of things you can do with a finished basement is astounding. Essentially, the only real limits are your imagination and your budget.
If you're not sure what to do with your basement space, you might want to consider some popular basement remodeling ideas. For example, many folks that remodel their basement use their new living space as a:
Spare Bedroom
Recreation Room
Home Office
Private Bar
The best option for you naturally depends on your lifestyle, preferences, and goals. For example, if you'd like to see a near-immediate return on your remodeling investment, you might want to opt for a basement bedroom.
You could rent out this space to a tenant and earn back the money you spent during the remodeling process! Of course, you could also choose to turn your basement into a gaming room, personal bar, or gym.
Take some time to think over each option. Then, if you're continuing to struggle with a decision, reach out to a basement design specialist for advice. 
Exercise Room
Gym memberships are often a pain to maintain, especially if you don't have a lot of spare time to make it to the gym. But when your basement is your gym, you can avoid the monthly fees and the traffic.
Turning your basement into an exercise room might be the best way to get fit and enjoy your workouts. Instead of avoiding stares from fellow gym members, you could be strengthening your muscles in peace.
Spare Bedroom
A remodeled basement could make the perfect spare bedroom. Though you might not choose this sleeping space for yourself, it could come in handy if guests or family members visit.
You might also choose to rent out a spare basement bedroom. Doing so will help you see a much faster return on your investment. And at the end of the day, a basement bedroom is sure to add value to your property.
Recreation Room
Everyone should have a recreation room, as having fun has several notable mental health benefits. If your home has a basement, it might be time to cut loose and enjoy some leisure time.
You can store a billiard table, several arcade cabinets, or shelves worth of consoles in a basement recreation room. Anything that sparks joy in your life can find a home in your basement, from games to stamp collections.
Home Theater
Whether you're a movie buff or a casual viewer, a home theater could be a dream come true. You can install a massive television or a digital projector into your basement theater and watch endless movies and shows.
When you hire a remodeling company to help you with your design, things get even better. A design service could help you plan multi-level seating arrangements, built-in spaces for speakers, and customized lighting options.
Wine Cellar
Even the finest wines can sour if they're not kept in cool, dry storage spaces. If you're a wine aficionado, you may want to consider converting your basement into a dedicated wine cellar.
Not only could this decision prolong the lifespans of your favorite bottles, but it could also dramatically increase your home's value. Besides, sipping wine while standing in your personal wine cellar is the height of sophistication.
Home Office
Finding a little peace and quiet can be hard to do, especially in larger households. But your basement is relatively removed from the rest of your home. It's also insulated by a combination of soil, cement, and drywall.
As such, it could be the ideal place for a home office. Remodeling your basement to become an efficient home office is a smart way to make your home investment pay for yourself.
After all, you're likely to be far more productive when you're not distracted by children, pets, or roommates.
Private Bar
If you've also wanted to bartend your own personal bar, there's excellent news: Your basement could be the perfect space for a private bar.
Placing a home bar in your living or dining room can make things feel cramped and claustrophobic. But you can mix drinks for family and friends in roomy comfort when you're using your basement's living space.
Even better, many remodeling companies are more than happy to help you design and build a customized home bar. So if you have your heart set on a mahogany bar and mirror-backed set of shelves, you can make it happen.
Let Nova Basement Finishing Remodel Your Basement
If your basement is filled with spider webs and musty air, it's time to consider basement remodeling. Of course, remodeling and finishing a basement is a multi-step process that requires in-depth expertise.
Fortunately, Nova Basement Finishing can help you redesign and remodel your basement. Their team of experienced professionals is friendly and helpful, and their affordable rates are competitive.
When you're ready to maximize your home's living space and value, Nova Basement Finishing is only a call or email away. Please contact us today with any questions you may have!