Whether you're looking to make your basement into additional living space, convert it into a playroom for kids, or anything in between, the options are endless. Converting your unfinished basement can be as easy as throwing down carpet and some curtains or as involved as tearing up concrete and installing plumbing.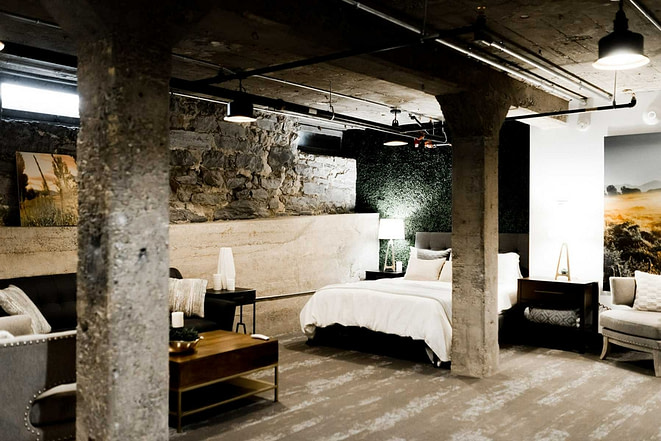 Here is a comprehensive list of basement remodeling ideas that'll help get you started on your project.
Add a Bathroom
A full bathroom is essential if you want to make your basement into an additional living area. You can either do this by excavating and installing plumbing or building a simple enclosure with a shower, toilet and sink.
Picking from one of these options will largely depend on the condition of your existing foundation. If it's already sturdy, digging out a full bathroom can be simple. If it's not, avoid significant construction and build an enclosure as a temporary solution until you're ready to start digging.
Build a Bar
If you like entertaining friends and family, adding a bar is the perfect basement remodeling idea for your next project. You can make one with simple wood or go all-out with a full-scale granite or marble countertop and wine fridge.
A bar is also a great spot to install your home theater, so you can get the party started with drop-down screens during game day.
Add an Entertainment Center
A simple entertainment center that houses all of your electronics is an easy way to bring your basement into the 21st century and transform it into a place you love spending time. If your basement is bare, this is a great way to add some character while also organizing your components so you don't have wires strewn everywhere.
Create a Home Gym
Adding a home gym is another great way to update your basement and give yourself an excuse to work out every day. If you have the room, build an entire fitness studio, or transform one corner into a mini-weightlifting area with barbells and dumbbells.
You can also take advantage of your basement's natural lighting by adding a skylight to make it feel more like an outdoor fitness center.
Add Custom Cabinetry
Another great way to increase the functionality of your basement is to build custom cabinetry that houses all of your entertainment components. You can go big with a wide cabinet that holds your TV and hides your electronics, or keep things simple with some stylish shelves for your vinyl records.
Install a Tiled Shower Area
If your basement is already prepped for plumbing, tiled showers are the perfect remodeling idea for transforming it into an additional living space. You can choose from a myriad of tile options to make this shower the most luxurious part of your home.
If you have the budget, go with marble for an elegant look, or stick to less expensive porcelain tiles for a more affordable option.
Install Ceiling Beams
An easy way to add architecture and give your basement a modern feel is with ceiling beams that run the room's length. These are typically made from wood but can also be combined with metal or glass for an unexpected look.
Transform Your Basement into an Additional Family Room
When designing your new basement space, think about any room in the house that could use an additional living area. For example, suppose you have a formal living room and dining room on one side of your home but no extra space to watch TV or relax on the other side. In that case, a basement family room might be an excellent solution for adding another cozy spot to hang out with friends and family.
Build a Home Theater
One of the most popular basement remodeling ideas is to turn your unfinished space into a sleek and sophisticated home theater. Add comfy recliners and floor lamps for maximum watching comfort if you're near a TV. Make sure to add plenty of lighting so everyone can see the screen from any seat in the room.
Go Big with a Billiard Table
Another fun basement idea is to turn the space into a billiards parlor. Depending on your style and how much money you want to spend, you can go as elaborate or as bare as you'd like. If you have some extra room, install a full-sized table so everyone can shoot pool at once, or keep things cozy with a mini version that fits in the corner of your room.
Add an Epic Game Room
If you're more into classic arcade games than pool tables, create the ultimate game room by adding old-school favorites like pinball machines and foosball tables. You can also spruce up this area with a vintage jukebox and a disco ball, so you feel like you're in an actual arcade from the 1980s.
Add More Natural Light
Basements are famously barren, even though they're one of the only rooms in your home without any exterior windows or access to natural light. Floor-to-ceiling glass doors are an easy solution to increasing light and giving your basement an open, airy feel.
You could also go with windows that span the entire length of one side of the room. No matter what you choose, adding more natural light will instantly transform your basement into a brighter, less dreary space.
Flooring Options for Basements
Carpet is the easiest option for basement flooring that also provides some insulation from cold concrete floors. You may want to invest in an area rug if you plan on using your new space as a living room or playroom. Otherwise, consider using wood plank tile if you're putting in a full bathroom.
Paint and Wallpaper for Basements
Because basements don't receive much natural light, creating a cozy atmosphere is essential to make this space feel like an extension of your home. Use the right paint colors and wallpapers to create a warm and inviting atmosphere. In general, darker shades are easy to add drama, while lighter shades will brighten up the room and help it feel more spacious.
Privacy
If you plan on using your basement as an additional living space, adding privacy is essential if you don't want to feel like you're in a cave. Consider picking up some heavy curtains for the bare walls or hanging up some beautiful wallpaper. You can also line the bottom of your stairs with some rugs or potted plants to give the space a finished look.
Air Circulation
One of the essential aspects of your basement, especially if you plan on using it as an additional living space, is air circulation. Even with heaters, basements often have poor ventilation. You can quickly fix this problem by hanging up a small oscillating fan.
Make It Yours
The best part about creating a cozy basement is decorating it to your tastes and preferences. Give the space a home theater vibe with plenty of comfy seating, or go for a more modern look with sleek leather couches and chic contemporary lighting. You can also turn the area into a fully-functioning bar, complete with a mini-fridge and a small sink.
Upgrade Your Laundry Room
Even if you have a full-sized washer and dryer in your laundry room, these basement upgrades will make the space feel more modern. Hang up some fantastic wall art, or add a sleek bench to give the area an upscale look. You can also upgrade your appliances to make them match the modern vibe of your basement.
What Goes into Converting a Basement into a Living Space?
There are many ways to convert your basement into a livable space, either without building additional walls or opening up the existing ones. Your walls will need to be reinforced for extra support in the latter case. You can use a standard combination of drywall and studs or consider using specially designed beams to hold up heavier loads.
The process may involve:
a. Finishing with Drywall
If you're trying to maximize your square footage or want an open layout that keeps your basement feeling like one big room, then drywall and paint are for you. Just be aware that several areas will need to be sectioned off for a bathroom and laundry room.
b. Additional Wiring, Plumbing, and Heating
If you want several different rooms in your basement–rather than one ample open space–then you'll want to do some additional plumbing and wiring. You may also want to add heating to prevent your room from being drafty.
c. Opening up Existing Walls
Even with a finished basement, one of the best ways to add extra livable space without spending a lot of money is by opening up existing walls and adding doors in their place. This will allow you to create multiple rooms in your already-finished basement without compromising your budget.
d. Adding Low-Profile Wall Paneling
If you want the option of adding different kinds of wall coverings, consider low-profile paneling that can be repositioned or taken down altogether if you're looking for a slightly more formal (or casual) look. You can also consider semi-permanent wallpaper, which is removable and still provides a finished look.
By using these basement remodeling ideas, you'll have a roomy and modern space that will be the envy of all your friends. Call experts at Nova Basement Finishing today to learn more.